One of my favorite houseplants of all time has to be the Hoya. Some may call it a slight obsession, I like to think of it as a 'collection'. I may be a bit of a 'Hoya Head' but I am nowhere near considered an expert, an amateur at best. I have learned so much over the past 4 years that I have managed to keep my collection alive and thriving. Here's what I have learned.
Basic Care
Researching how Hoyas thrive in nature is half the battle when caring for them. Hoyas are a part of the Apocynaceae family. They are native to Asia and thrive in tropical & humid areas (temperatures above 60 degrees). Since they are epiphytes (a gap species), they tend to climb up and through trees receiving dappled light (no direct light) as well as shade. They create beautiful canopies in the wild and receive only light winds since they are protected from the trees they climb.
There are possibly over 250+ species of Hoya all over the world, some may argue that number is closer to 700! But many factors can play in this number (different regions may have different names, hybrids, etc). Best way to tell what type of Hoya variety you may have is the bloom, which may take some time an ideal growing environment to occur.
Lighting
Hoyas love bright, indirect light (Direct sunlight can scorch the leaves causing black spots). Even though Hoyas can tolerate medium light, this will not be enough for them to bloom their beautiful fragrant flowers. East, West and South windows are the best placement for Hoyas. If a North window is all that is available, supplemental lighting from a grow light may be needed in order for them to bloom.
Temperature
Since Hoyas naturally thrive in a tropical environment, heat and humidity are a must for a successful growth. Keeping temperatures above 60 degrees (never below 50) in your home as well as supplying a humidifier will keep them happy for many years to come.
Soil
Hoyas love an airy mixture of soil. Heavy and compact soil can cause issues with root rot which Hoyas can be susceptible to. Using a 50/50 mix of 1/2 potting soil (or cactus soil), mixed with 1/2 orchid bark, pumice or perlite (or a little bit of each!) to create a breathable soil. Keep in mind that some Hoyas are terrestrial (like a Hoya multiflora), meaning they thrive in the ground and do not climb epiphytically thriving on trees. Terrestrial Hoyas will not need an airy soil mixture as compared to their epiphytic partners.
Watering
Only water when the soil is dry. Hoyas have thick leaves and stems that are succulent-like and are able to store water. As mentioned before, they are susceptible to root rot, so if you are not sure if it's time to water, it's better to wait. You can give the leaves a gentle squeeze and if they 'pucker' it is a sign to water. Wrinkles in the leaves are also a sign that your Hoya needs a good watering.
If you notice discoloration and wrinkles along the base of your Hoya, that can be a sign that you over watered. So always err on the side of caution since these beauties are very sensitive to overwatering. Growing your Hoya in a clay pot can help wick away excess water. There are some debates that certain species have roots that may stick to a clay pot making repotting difficult.
Tips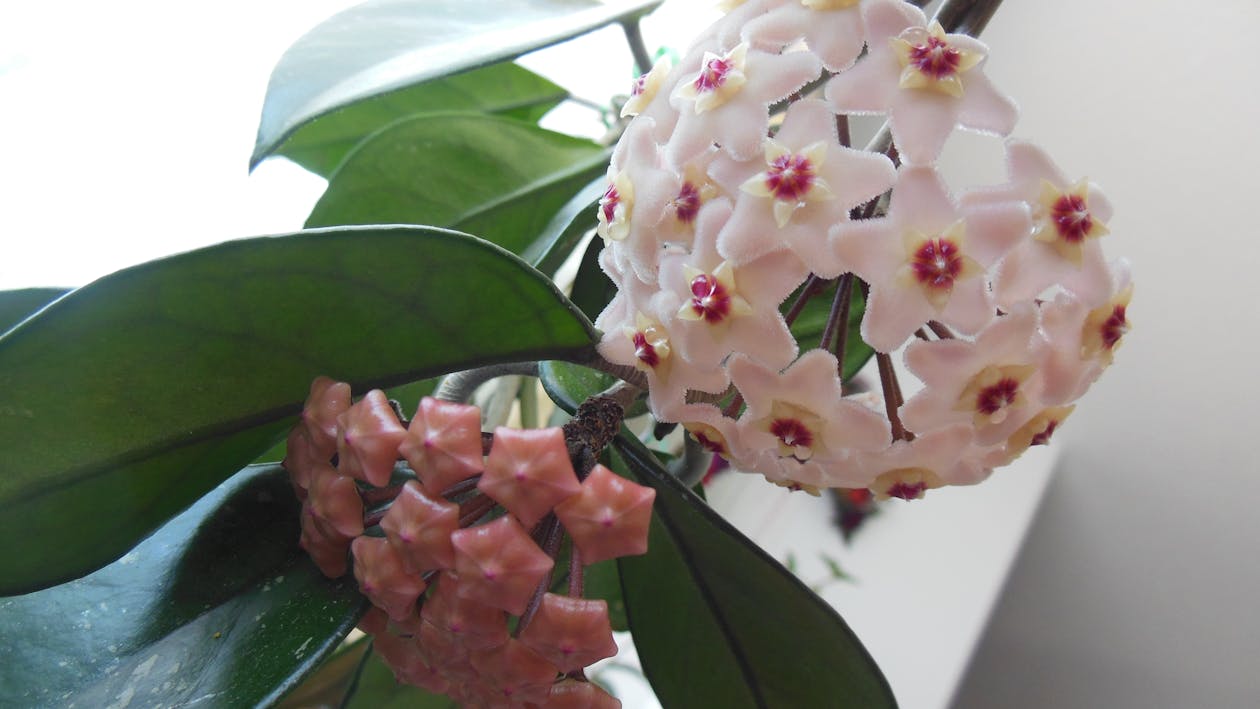 Blooms
Getting your Hoya to bloom can take some time & plant maturity. Ideally they will need bright, indirect light from a South, West or East facing window. They love to be root bound (re-potting often is not necessary) and have soil on the drier side; this particular type of stress can promote blooms. Never cut the long (sometimes woody) tendrils growing from a Hoya, that is where leaves and flowers grow from. Proper fertilization also aids in the growth of beautiful fragrant blooms.
Fertilize your Hoyas during the growing season, which is in the Fall and Spring. Ideally you can fertilize weekly or bi-weekly with a gentle and organic fertilizer like fish or algae fertilizer. You can also amend your soil with crushed eggshells or oyster shells, both with great results in growth.
Environment
As mentioned before, keep your Hoyas in a warm & humid area with bright indirect light. In addition, make sure you keep them away from cold and drafty windows. Naturally Hoyas are protected from winds as they scramble up trees, so it would be best to try and mimic their environment in your home in a minimal drafty area.
Propagation
The best way to propagate is through stem cuttings during their growing season (Spring and Summer). Simply cut a piece of your Hoya (around 3 inches) with a clean and sanitized knife or scissors making sure you have a node (which looks like a bump or swell on the stem) and place it in water. Make sure the leaves are above the water to avoid leaf rot.
The leaf cutting method can also be effective, but some varieties of Hoyas (like the Hoya kerri) will not grow beyond the leaf without a node, so make sure to do some research before propagating your particular Hoya.
Plastic bag method, rooting in sphagnum moss & the layering method are also very effective. If your budget is limited & you do not want to buy supplies that are needed with these particular methods, water propagation is ideal with a very high success rate.
Hoyas are known as milky weeds and can emit a milky white substance that will leak when a stem or leaf is broken off (this milky substance can also irritate sensitive skin). Certain sap sucking bugs like mealy bugs or spider mites are very common with Hoyas due to their milky weed character.
Spider mites love hot and dry conditions, so keep the humidity up and spray with neem oil to battle them. Mealy bugs can be a big pain! Neem oil can also help rid them but dabbing these pests with a cotton swab soaked in alcohol can get rid of these plant suckers faster.
What is your favorite variety of Hoya?
Check out our entire network and see what everyone is talking about!